Planning to invest in real estate?
Choose residential compounds from professional developers
and talk to one of our consultants who will match your property or service to your needs
OR FROM THE 6 TYPES OF NEW APARMENTS
and talk to one of our consultants who will offer you the right home for your needs
AND FOLLOW THE STEPS BELOW
STEP 1
Schedule an appointment
STEP 2
Sign a reservation
STEP 3
Stay up to date with the project status
STEP 4
Sign the final contract and enjoy your new home
IT'S IMPORTANT TO US THAT YOU MAKE THE BEST DECISION FOR YOUR CURRENT NEEDS, SO WE'VE BROUGHT FOR YOU
SERIOUS DEVELOPERS ONLY
who deliver what they promise
QUALITY HOUSING
without hidden vices
TEAM OF PROFESSIONALS
that guides you in the purchase process
TRANSPARENT INFORMATION ONLY
no hidden pimples
YOU ARE IN GOOD HANDS BECAUSE WE HAVE
Over
35
fully sold projects
Over
6
years of experience
Over
150
million euros in the value of the properties sold
and let's show you the best options we have for you in our portfolio
SEE WHAT OUR CUSTOMERS ARE ALSO SAYING
My first encounter with The Concept was when I bought an apartment in one of the projects sold by the company. I liked the professional way they treated me during the stages of the purchase, from how I was always updated with what was happening in the construction site to the moment when I signed and received the reception of the building.

I chose them as Sales Partners on my residential projects because The Concept bases its philosophy on the premise that seriousness and hard work prevail in any relationship. I see them as a valuable long-term partner.

The pleasant surprise of working with the sales team formed and managed by The Concept has been the alignment with our company values in terms of the importance they place on process. We believe that what determines the performance of a team or a project is not those one-off, extraordinary things that happen at a given moment, but rather the habits that the team has every day. We have found these habits that bring added value to the project in the sales team dedicated to the CORE New Times project.

We were pleasantly surprised to see that they are proactive, that they make plans and report back constantly and in an organized way, that they put a lot of emphasis on continuous improvement of the team, that they invest in the education of their colleagues and that they have a combination of strengths that make success inevitable: they are very good professionals in their field, very flexible and open to new ways of doing things.

I believe that the value of a man is also formed by the value of the people around him, the value of the team he has and leads. And that's what I've always tried to do. That's how I reached you. The recommendations were important, from people I trust. And I congratulate myself for the choice I made, because you are indeed a professional team, a team that does things like I have never seen anyone do before. And I'm convinced that if I hadn't done that, the sales would not have gone to the level that you guys have.
OUR MERIT WAS ALSO RECOGNIZED THROUGH AWARDS
Thank you to those who believed in us
WE COULDN'T HAVE SUCCEEDED WITHOUT THE EXTRAORDINARY TEAM AT THE CONCEPT
21 people dedicated to our customers
WE ARE THE CONCEPT!
the first real estate consulting company in Romania that combines sales services with media services
The idea started to come to life in 2011, and step by step we grew into one of the leaders of the real estate services market in Romania, offering integrated Marketing, Sales, Consulting, PR, Social Media and Market Research solutions for some of the most important developers and investors in the real estate market.

From the beginning until today, The Concept team, which counts 26 employees and close collaborators, has managed the sales of over 70 residential complexes, managing to exceed the threshold of 3000 apartments sold.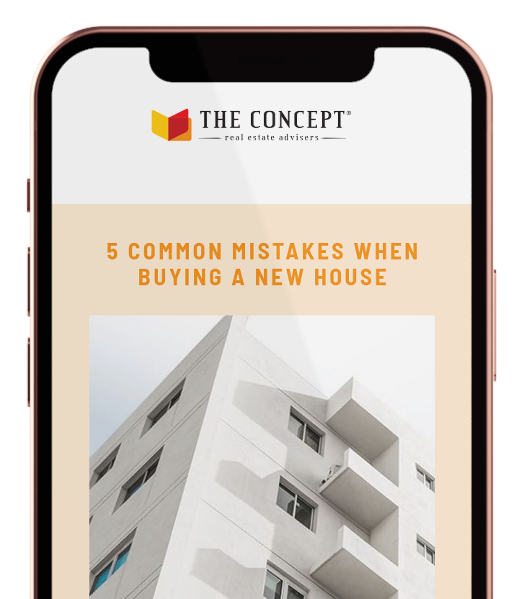 Throughout this time, I have seen many mistakes people make when buying a new home. So we've learned from their experiences and decided to share them with you.
We have prepared for you a guide with 5 common mistakes when buying a new house
and don't repeat on your own dime the mistakes others have made
Get in touch with us
We are processing your message.
Everything is okay
Your message has been sent!