YOU WANT A WORKING ENVIRONMENT WHERE YOU CAN REACH YOUR POTENTIAL
and enjoy a portfolio of salable and quality units?
and become a top performer
Iată cum se simt colegii noștri în echipa The Concept
Although I've only been with The Concept for 2 years I feel I've learned as much in that time as others have in 10.
The weekly sales training and real, on the ground experience has helped me most of all. It's all in the details. Especially when it comes to land and commercial transactions.
If you master the techniques, the contract is as good as signed. :)

We believed in our vision from the beginning and persevered no matter what the times.
This has been the recipe for our team's success along with the adaptability and procedures that help us stay organized and always find quick solutions to any challenge.

I found at The Concept a super professional team, organized, persistent and last but not least very fun.
I resonated from the first days here with the vibe of the team and the mentality of the people.
I'm glad that although at first glance real estate seems like a lackluster field, we show creativity day in and day out, podcast by podcast and no two days are alike.
DO YOU WANT TO GROW WITH US?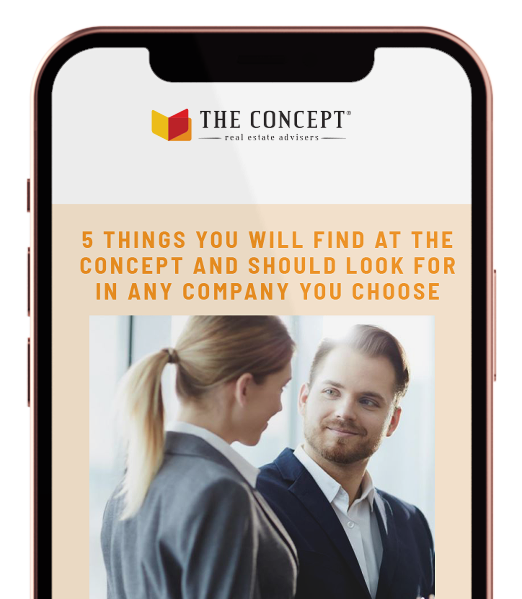 Throughout this time, I have seen many mistakes that people make when they want to get hired. So, we've learned from their experiences and are eager to share them with you.
We have prepared for you a guide with 5 THINGS YOU WILL FIND AT THE CONCEPT AND SHOULD LOOK FOR IN ANY COMPANY YOU CHOOSE
and don't repeat on your own dime the mistakes others have made
Get in touch with us
We are processing your message.
Everything is okay
Your message has been sent!