We are proud to present you
Grand Park Pipera
and talk with one of our consultants who will present you a personalized offer
Learn more about Grand Park Pipera
Grand Park Pipera
Str. Erou Iancu Nicolae, nr. 80,
Pipera, Bucharest
And about our team dedicated to the project
To help you decide, discover the facilities of the area and the project
and talk with one of our consultants who will present you a personalized offer
If you still need more information
Get inspired from the project description Grand Park Pipera.
GRAND PARK Pipera Residence este situat în Pipera, pe str. Erou Iancu Nicolae 80 lângă pădurea Băneasa, într-o zona aerisită, cu case și imobile moderne tip vilă. Desfăşurat pe o suprafaţă de teren de cca 5000 mp, ansamblul dispune de 3 imobile, cu înălţimea 2S + P + 3E + Etaj Retras, având în total 96 de apartamente cu 2, 3 şi 4 camere prevăzute cu locuri de parcare subterană, spaţiu comercial la parterul primului imobil cu front la str. Erou Iancu Nicolae, zonă verde, piscină interioară şi sală de fitness exclusiv pentru locuitorii ansamblului Grand Park Pipera Residence.

Grand Park Pipera Residence oferă acces rapid la centrul comercial Jolie Ville, magazinul de proximitate Lidl, la câteva de minute de cele mai importante școli internaționale American School, British School, Lycee Francais, Mark Twain sau Avenor, la principalele cluburi sociale și private: Stejarii Country Club, Atlantis Club etc.

Prin achiziționarea unui apartament în Grand Park Pipera câștigi un stil de viață nou și te vei integra într-o comunitate restrânsă de oameni activi, preocupați de frumos, de o viață liniștită în cea mai exclusivistă zonă a Capitalei.
And the one of the neighbourhood Pipera from Bucharest
Where the project Grand Park Pipera is located
Pipera, one of the most select neighbourhoods in Bucharest. Located a few minutes from the Băneasa forest, in the immediate vicinity of the most famous kindergartens and private schools in Bucharest and Romania (American School, Mark Twain International School, etc.), the neighborhood offers many advantages that you can take advantage of in your free time and beyond.
Whether we are talking about the nearby restaurants and cafes: Starbucks, Gre Bakery, Elfi Sky Bar & Urban Kitchen, Garlic Pub, Studio 80 or shopping centres such as Ikea, Băneasa Shopping Center, Metro, Pipera offers quick access to the Jolie Ville shopping centre, the Lidl convenience store and the most important international schools: American School, British School, Lycee Francais, Mark Twain or Avenor or the main social and private clubs: Stejarii Country Club or Atlantis Club.
With the purchase of a home in Pipera, you will enjoy a new lifestyle and quickly integrate into a community of active people, connected to the latest news, concerned with beauty and a peaceful, safe life.
and talk with one of our consultants who will present you a personalized offer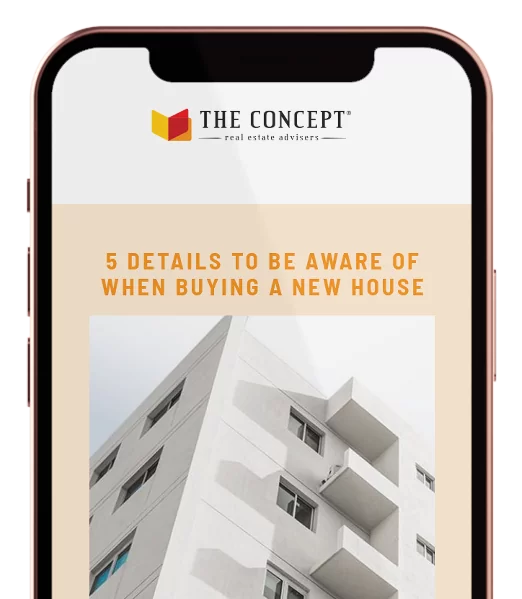 Throughout this time, I've seen many mistakes people make when planning a new home purchase. So, we've learned from their experiences and are eager to share them with you.
We have prepared for you a guide with 5 DETAILS TO BE AWARE OF WHEN BUYING A NEW HOUSE
and don't repeat on your own dime the mistakes others have made