WE ARE GLAD TO PRESENT YOUR COMMERCIAL SPACE
AVANERA BACAU
and talk to one of our consultants who will show you all the details of the transaction
Learn more about Commercial space Avanera Bacau
which will bring you a profit on medium and long term
Commercial space Avanera Bacau
str. Stefan Cel Mare, nr. 24E
Stefan Cel Mare, Bacau
And schedule a call with our sales team
Our experts will help you overcome every challenge of the transaction
Check out the facilities of the area
and talk to one of our consultants who will show you all the details of the transaction
Learn more about Commercial space Avanera Bacau
Designed as a hybrid system, the new Avanera Bacău residential complex introduces a fresh residential concept to the local real estate market, blending residential areas with designated spaces for offices and commercial premises.

The overall benefits of such a complex are numerous: within the complex, the flow of people and vehicles will be balanced, resulting in low congestion and low occupancy levels. Residents and office workers will have convenient access to restaurants, a gym, a notary office, a law firm, a kindergarten, an afterschool center, clinics, a veterinary clinic, beauty salons, banks, an eco-friendly laundry service, and a pharmacy. As a result, many essential daily amenities will be readily available within the complex itself.

The Avanera Bacău real estate complex consists of two building sections constructed with a ground floor, a basement, and ten additional floors, reaching a height of 36 meters. The total built-up area is 22,914 square meters, with approximately 5,000 square meters allocated for commercial and office spaces. These spaces range from 106 square meters to 551 square meters and are available on the ground floor and the first floor.

Moreover, for owners of commercial spaces, the majority of customers will be provided by the residents of the 200 apartments, as well as the individuals working in the office areas throughout the day, ensuring a constant flow of clients.

The commercial spaces are delivered in a semi-finished state, allowing customers to choose optional finishes at an additional cost.

General amenities: Electricity / Water / Sewage / Gas / Underfloor heating / Air conditioning installation / Central heating system / Sanitary facilities / Internet / Video surveillance / Underground and above-ground parking / New construction.
Discover the area Stefan Cel Mare from Bacau City
Stefan cel Mare is one of the most vibrant and lively areas of Bacau. Here you will find a unique combination of tradition and modernity, from historic buildings and historical monuments, to modern cafes and restaurants, boutiques and shops, all located in Bacău's largest shopping mall, Arena Mall.
In addition to historical attractions, the Stefan cel Mare area is known for a variety of excellent gastronomic options. Here you will find restaurants of all kinds, from traditional Romanian cuisine to international culinary specialties.
In conclusion, if you want to explore an area full of history, culture and unique gastronomic experiences, then the Stefan cel Mare area of Bacau is the perfect choice for you!
and talk to one of our consultants who will show you all the details of the transaction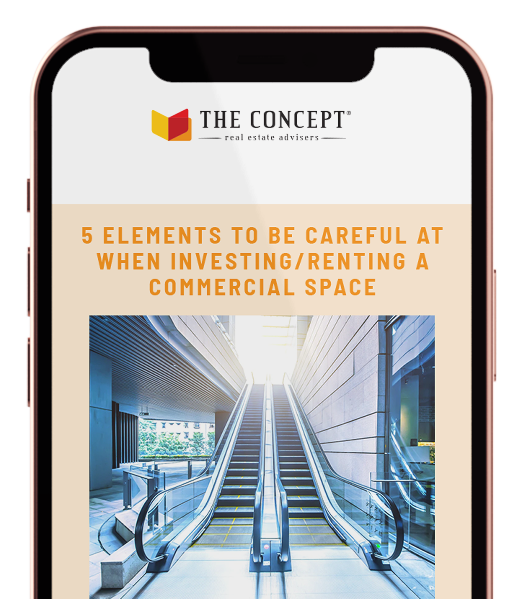 Throughout this time, I have seen many mistakes people make when investing or renting commercial space. So we've learned from their experiences and decided to share them with you.
We have prepared for you a guide with 5 ELEMENTS TO BE CAREFUL AT WHEN INVESTING OR RENTING A COMMERCIAL SPACE
and don't repeat on your own dime the mistakes others have made
Get in touch with us
We are processing your message.
Everything is okay
Your message has been sent!