HOW DO YOU MINIMIZE RISKS IN OFF-PLAN INVESTMENT?
and talk to one of our consultants who will match your property or service to your needs
HOW DO YOU MINIMIZE RISKS IN OFF-PLAN INVESTMENT?
Sep 2022
Are you planning to invest off-plan, but weighing the advantages and disadvantages first?
Having your money locked up during the construction phase may not be for everyone, but it is precisely this period that makes off-plan unique, as it offers your asset the opportunity to increase in value during the period until it is completed.
Loss of deposit – The biggest risk associated with buying properties under construction is the possibility that the developer may go bankrupt before completion. The concrete risk in this regard is that you, as an investor or buyer, may lose your deposit. Essentially, you lose the money you have paid up to that point, unless you have insurance. This rarely happens and typically only occurs in the case of a deep economic crisis. But it can happen.
The reason? In such a crisis, the development business may no longer make sense because the sales revenue may be lower than the development costs.
What can you do?
A good way to mitigate this risk is to work with reputable and experienced developers. Look for reviews from former clients, the developer's history, and whether they have previously met completion deadlines. How can you check this? Google, LinkedIn, Facebook, or a reputable company to consult. The company I lead, The Concept, has a 100% clean history with over 3,000 units sold and delivered.
Another good solution to reduce the risk is to pay a smaller deposit, even a minimum, with the assumption of the risk that you may not be able to negotiate as well.
Also, consult materials related to how real estate cycles materialize. According to our studies, we are in the second part of the cycle, with another 3-5 years until the next crisis.
2. Delayed completion is one of the most obvious drawbacks of investing off-plan. Even though in a growing market like the current one, your property will appreciate in value, you won't be able to enjoy this until the development is completed, whereas investing in completed properties means you can start benefiting from passive income as soon as it is rented out. The implicit risk for you is that of construction delays. To minimize this risk, once again, choose to work with reputable businesses. A good track record shows that the developers have been through the process several times and have mastered it better.
3. Non-compliance with work quality standards. When buying off-plan, you are buying something that is usually under construction or even before. Therefore, you cannot analyze it in its final form. There have been cases where people have signed pre-contracts for something and received something else in the end. Fortunately, such cases are increasingly rare. Competition has increased, and a mistake like this by a developer can put them out of the game. How can you ensure this doesn't happen? By including very clear clauses in the pre-contract and, once again, by checking the developer's and their team's track record.
4. Property value decreases. Property prices can fluctuate – a well-known fact in the real estate market – but if it becomes a longer-term problem, it may be the result of superficial research on the investor's part.
What can you do? Look for a property in a known location for strong investments, with a good economy, good transport links, and in a general context of a growing economy.
What risks do you take when investing off-plan? We look forward to your comments. In the meantime, don't forget to subscribe to The Concept's channels to stay one step ahead of everyone when it comes to real estate investments.
See other articles
and get information from our experts in the field.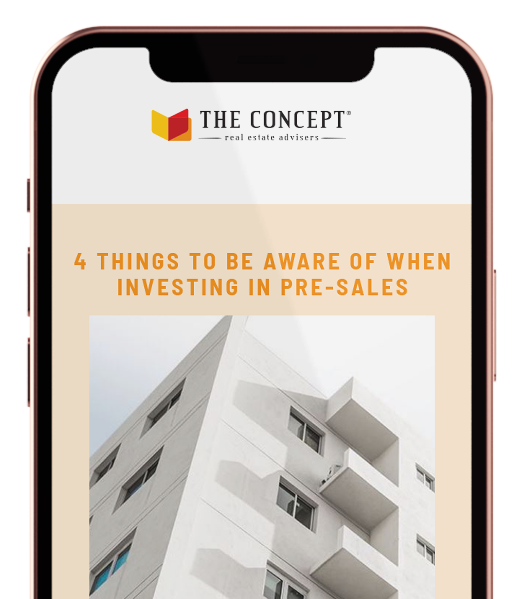 Throughout this time, I've seen many mistakes people make when investing in pre-sales. So, we've learned from their experiences and decided to share them with you.
We have prepared for you a guide with 4 THINGS TO BE AWARE OF WHEN INVESTING IN PRE-SALES
and don't repeat on your own dime the mistakes others have made
Get in touch with us
We are processing your message.
Everything is okay
Your message has been sent!