We are proud to present you
NEST BY THE LAKE
and talk with one of our consultants who will present you a personalized offer
Learn more about NEST BY THE LAKE
NEST BY THE LAKE
Dobroesti Road 84C
Dobroești, Bucharest
And about our team dedicated to the project
To help you decide, discover the facilities of the area and the project
and talk with one of our consultants who will present you a personalized offer
If you still need more information
Get inspired from the project description NEST BY THE LAKE.
The NEST By The Lake residential complex enjoys a prime location with access to Lake Dobroești. With a total of 340 apartments, the project will be developed in 4 phases, with the first phase comprising 85 apartments with 2,3 rooms and 3 duplex apartments. Using the sun's inexhaustible energy, 22 solar thermal panels together with the block heating system offer an easy, long-term, cost-effective way to optimise consumption and monthly heating costs. You save valuable time when your children's school and nursery are close to home, and your relaxation and shopping areas are just minutes away.

Three bus stops (455, 253, 104) are close to the complex, providing quick access to the city's main points of interest. At NEST By The Lake you benefit from a stress-free environment with a 300 sqm fitness centre at your disposal, a pleasant experience to be active, social and relaxed. In a bustling city and urbanized area, NEST By The Lake gives you the chance to build new memories, no matter the season, while enjoying pedestrian areas with paved walkways and special green spaces for lake access.
And the one of the neighbourhood Dobroești from București
Where the project NEST BY THE LAKE is located
The dynamism of Bucharest, especially the central areas, is the dose of energy and action we need. At the same time, living in a quiet area has many advantages. Why not have both? The Dobroești district is a hotspot, with access to one of the most beautiful natural lakes in Bucharest. You save valuable time when the children's kindergarten (Kermit Kindergarten or Kindergarten No. 187) and the Dimitrie Leonida Technical College or Lucian Blaga Theoretical High School are close by.
Moreover, relaxation and shopping areas such as Mega Mall, Lidl, Jysk, Delfinului Market or Dobroești Market are only a few minutes away. In Dobroești you will find three bus stops (455, 253, 104) with quick access to the main points of interest of the city. The Dobroești district offers modern living, efficient facilities and an unbeatable view of Dobroești Lake. Choose a metropolitan neighbourhood that offers the comforts of urban life combined with the natural environment.
and talk with one of our consultants who will present you a personalized offer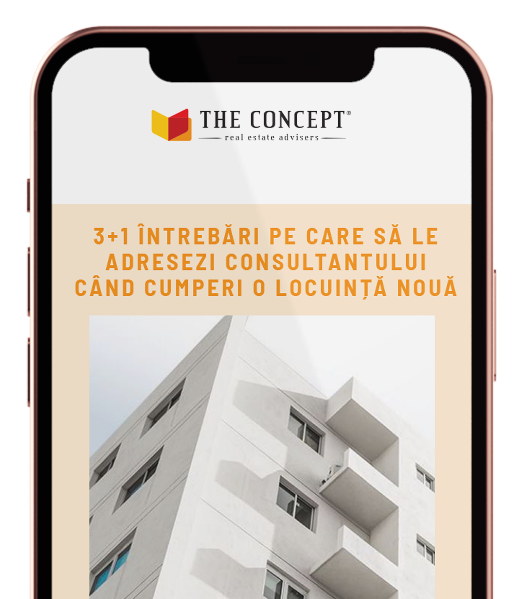 În tot acest timp, am văzut multe greșeli pe care oamenii le fac atunci când cumpără o locuință nouă. Așadar, am învățat și noi din experiențele lor și ne-am hotărât să le împărtășim cu tine.
We have prepared for you a guide with 3+1 întrebări pe care să le adresezi consultantului când cumperi o locuință nouă
și nu repeta pe banii tăi greșelile pe care le-au făcut alții